Gerd Weigmann, Franz Horak, Kerstin Franke und Axel Christian (2015): Acarofauna Germanica – Oribatida. Verbreitung und Ökologie der Hornmilben (Oribatida) in Deutschland. / Distribution and Ecology of Oribatid Mites (Oribatida) in Germany.
Senckenberg Museum für Naturkunde Görlitz, Peckiana 10: 171 pp. ISBN: 978-3-9815241-1-6
Keywords:
Oribatida, oribatid mite taxa, maps
Abstract
Weigmann (2006) published a comprehensive study of oribatid mites in the series 'Fauna of Germany'. Since then the number of known species from Germany has greatly increased. The recent publication lists a total of 570 oribatid mite taxa (560 species and 10 subspecific taxa) currently known and provides maps of their distribution in Germany.

References
Beck L., F. Horak F. & S. Woas (2014): Zur Taxonomie der Gattung Phthiracarus Perty, 1841 (Acari, Oribatida) in Südwestdeutschland. – Carolinea 72: 109–132.
ICZN (2012): International Code of Zoological Nomenclature, 4th edition, 2012, Chapter 7. Article 27. Diacritic and other marks. International Commission on Zoological Nomenclature. online. [http://www.iczn.org/iczn/index.jsp (Abruf 1.1.2016)]
Krisper G., H. Schatz H. & R. Schuster (2016): Oribatida (Arachnida: Acari). – Checklisten der Fauna Österreichs. Biosystematics and Ecology Series. Verlag der Österreichischen Akademie der Wissenschaften, Wien, (im Druck).
Weigmann G. (2006): Hornmilben (Oribatida). – In: Die Tierwelt Deutschlands, 76. Bd. Goecke & Evers, Keltern: 520 pp.
Willmann C. (1931): Moosmilben oder Oribatiden (Cryptostigmata). – In: Dahl F. (Hrsg.), Die Tierwelt Deutschlands, Bd. 22, vol. 5. Fischer, Jena: 79–200.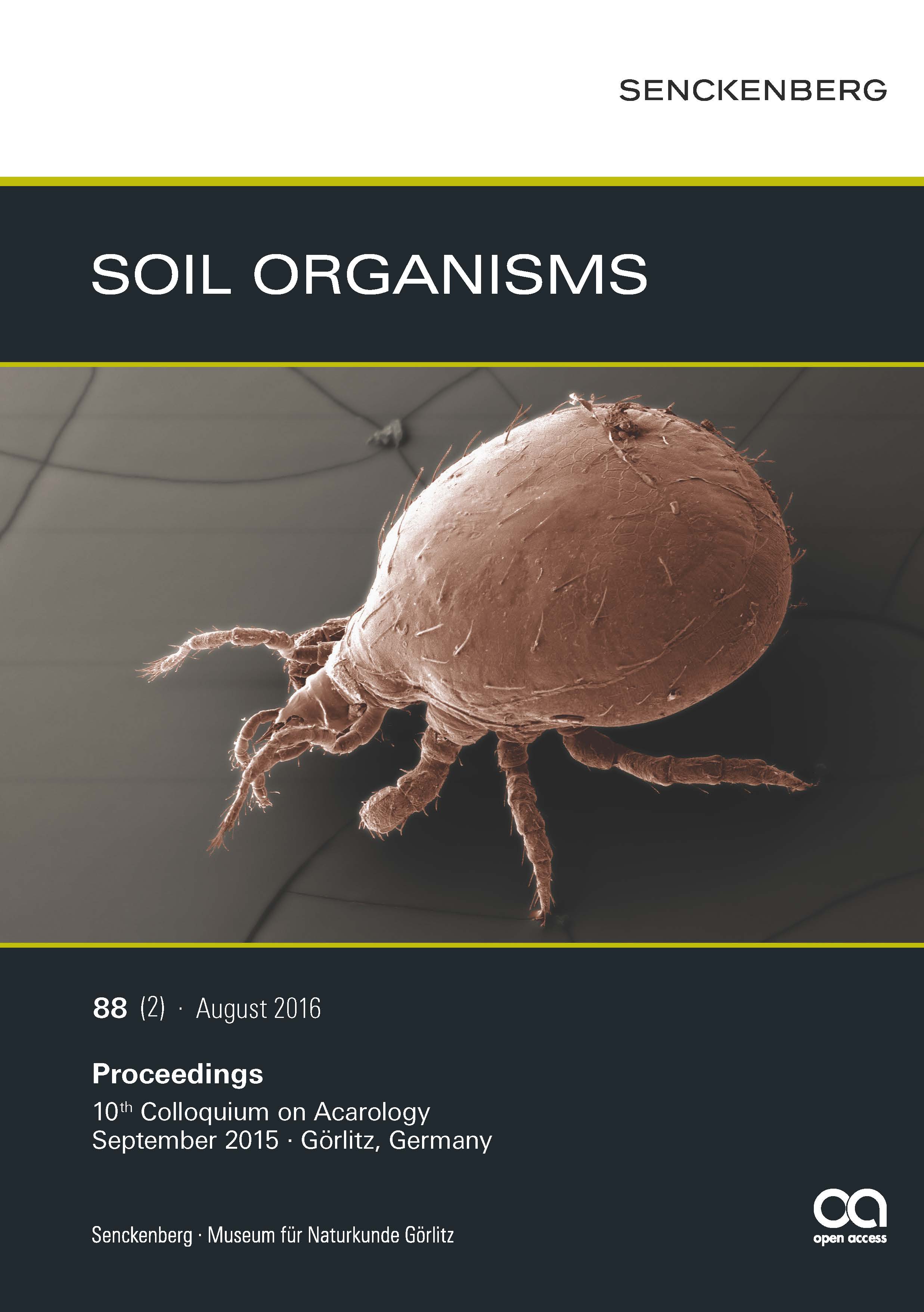 Downloads
How to Cite
Schatz, H. (2016). Gerd Weigmann, Franz Horak, Kerstin Franke und Axel Christian (2015): Acarofauna Germanica – Oribatida. Verbreitung und Ökologie der Hornmilben (Oribatida) in Deutschland. / Distribution and Ecology of Oribatid Mites (Oribatida) in Germany.: Senckenberg Museum für Naturkunde Görlitz, Peckiana 10: 171 pp. ISBN: 978-3-9815241-1-6. SOIL ORGANISMS, 88(2), 147–148. Retrieved from http://soil-organisms.org/index.php/SO/article/view/101