A peculiar new species of Scutisotoma Bagnall, 1949 (Collembola: Isotomidae) from Brazil
Keywords:
Biodiversity, Neotropic, springtail, taxonomy
Abstract
Samples collected from the National Park of Caparaó, in Minas Gerais state, revealed the presence of a new species Scutisotoma misha n. sp., which is distinguished from other congeners species by having a peculiar set of characters: simple maxillary palp, the absence of the labial guard chaetae e7, Ant. III without bms, 5,4/3,3,3,3,5 tergal sensilla (including 1,1/1,1,1 microsensilla) and one spatulate tenent chaeta on each tibiotarsus. In the present work the genus Scutisotoma Bagnall, 1949 is recorded for the first time in Brazil.
References
Arlé, R. & M. C. Mendonça (1982): Estudo preliminar das espécies de Dicranocentrus Schött, 1893, ocorrentes no Parque Nacional da Tijuca, Rio de Janeiro (Collembola). – Revista Brasileira de Biologia 42(1): 41–49.
Bagnall, R. S. (1949): Contributions towards a knowledge of the Isotomidae (Collembola) I–VI. – Annals and Magazine of Natural History 12(1): 529–541.
Bellinger, P. F., K. A. Christiansen & F. Janssens (2019): Checklist of the Collembola of the World [http://www.collembola.org (Accessed 31 January 2019)].
Christiansen, K. A. & P. F. Bellinger (1980): The Collembola of North America North of the Rio Grande, Part 2. Families Onychiuridae and Isotomidae. – Grinnell College, Iowa: 387–784.
Fjellberg, A. (1993): Revision of European and North African Folsomides Stach with special emphasis on the Canarian fauna (Collembola: Isotomidae). – Entomologica Scandinavica 23: 453–473.
Fjellberg, A. (1999): The labial palp in Collembola. – Zoologischer Anzeiger 237: 309–330.
Hepburn, H. R. & G. N. Ross (1964): Collembola from Mexico. – Entomological News 75(8): 219–220.
Huang, C. W. & M. Potapov (2012): Taxonomy of the Proisotoma complex. IV. Notes on chaetotaxy of femur and description of new species of Scutisotoma and Weberacantha from Asia. – Zootaxa 3333: 38–49.
Mendonça, M. C., G. C. Queiroz & T. C. Silveira (2015): Two new species of Proisotoma Börner, 1901 from Southeastern Brazil (Collembola: Isotomidae). – Soil Organisms 87(1): 51–60.
Potapov, M., A. Babenko & A. Fjellberg (2006): Taxonomy of the Proisotoma complex. Redefinition of genera and description of new species of Scutisotoma and Weberacantha (Collembola: Isotomidae). – Zootaxa 1382: 1–74.
Wray, D. L. (1950): A preliminary list of Collembola of Utah. – Bulletin of the Brooklyn Entomological Society XLV: 60–64.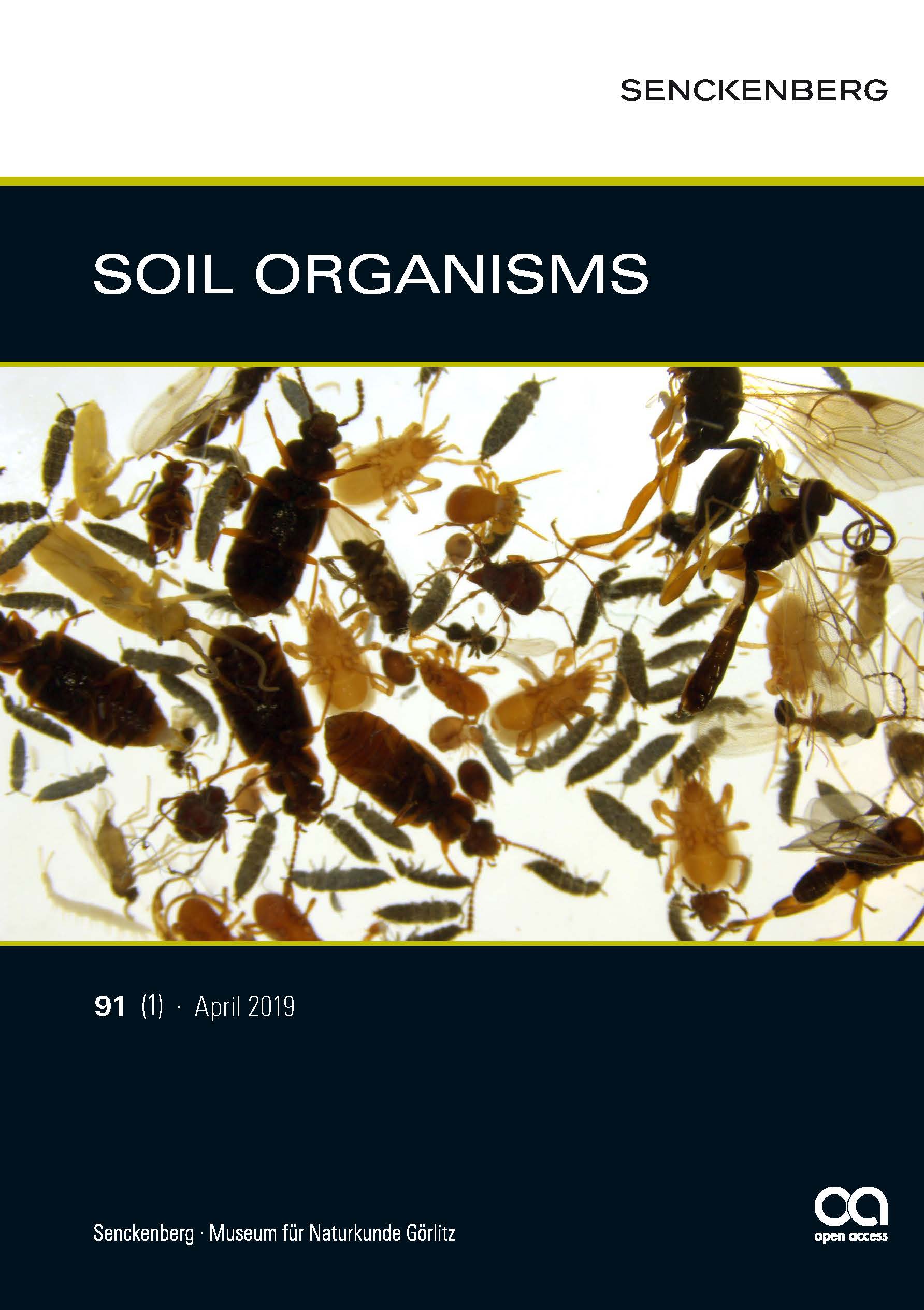 Downloads
How to Cite
Mendonça, M. C. de, & Silveira, T. C. da. (2019). A peculiar new species of Scutisotoma Bagnall, 1949 (Collembola: Isotomidae) from Brazil. SOIL ORGANISMS, 91(1), 1–6. https://doi.org/10.25674/so-91-1-01