Resistance to flooding of different species of terrestrial oribatid mites (Acari, Oribatida)
Keywords:
plastron, larviparity, survival time, aquatic, fresh water
Abstract
Resistance to flooding was tested in six terrestrial oribatid mite species with different ecological needs. The silvicolous Galumna lanceata and Oppiella (Oppiella) marginedentata showed low average survival times of seven and 14 days, the moss-dwelling Zygoribatula exilis tolerated a month of submergence on average, the eurytopic Eueremaeus oblongus and Tectocepheus velatus sarekensis survived an average period of 52 and 80 days and the euryoecious Plathynothrus peltifer showed the highest tolerance with 130 days median lethal time. Accordingly, overflow tolerances are clearly species dependent, but may also be correlated with the ecological needs of each species. Most of the inferred survival times clearly exceed the periods of naturally occurring flooding in typical terrestrial temperate habitats. Therefore, terrestrial oribatid mites may show a basic predisposition for overflow tolerances.
We also performed the opposite experiment, i.e. we exposed the aquatic Hydrozetes lemnae permanently to atmospheric air. More than half of the individuals survived 130 days but all tested specimens completely reduced activity which indicates that
H. lemnae initiates a state of dormancy when being outside of water, probably to withstand longer lasting droughts in nature.
References
Alberti, G., V. Storch & H. Renner (1981): Über den feinstrukturellen Aufbau der Milbencuticula (Acari, Arachnida). – Zoologische Jahrbücher – Abteilung für Anatomie und Ontogenie der Tiere 105: 183–236.
Baumgärtl, H., K. Kritzler, W. Zimelka, & D. Zinkler (1994a): Sauerstoffpartialdruckprofile im Umfeld überfluteter Bodenkleinarthropoden. – Verhandlungen der deutschen Zoologischen Gesellschaft 87: 303.
Baumgärtl, H., K. Kritzler, W. Zimelka, & D. Zinkler (1994b): Local PO2 measurements in the environment of submerged soil microarthropods. – Acta Oecologia 15: 781–789.
Behan-Pelletier, V. M. & B. Eamer (2007): Aquatic Oribatida: Adaptions, constraints, distribution and ecology. – In: Morales, J. B., Behan-Pelletier, V., Ueckermann, E., Perez, T. M., Estrada-Venegas, E. G. & M. Badii (eds.): Acarology XI: Proceedings of the International Congress. – Instituto de Biología and Facultad de Ciencias, Universidad Nacional Autónoma de México; Sociedad Latinoamericana de Acarología. Mexico: 71–82.
Brandstetter, N & G. Krisper (2011): Die Hornmilbenfauna (Acari, Oribatida) in Auwäldern an der Traun (Oberösterreich). – Beiträge zur Naturkunde Oberösterreichs 21: 287–329.
Buford, D. R. (1976): Morphology and life history of Hydrozetes bushnelli n. sp. (Oribatei, Hydrozetidae). Unpublished Ph.D. thesis, University of Colorado, Boulder, 127pp.
Franklin, E. N., R. L. Guimarães, J. Adis & O. R. Schubart (2001): Resistência à submersão de ácaros (Acari: Oribatida) terrestres de florestas inundáveis e de terra firma na amazônia central em condições experimentais de laboratório. – Acta Amazonica 31(2): 285–298.
Franz, H. (1954): Die Nordostalpen im Spiegel ihrer Landtierwelt. Bd. 1, Acarina. — Univ. Verlag Wagner Innsbruck: 329–452.
Krantz, G.W. & G. T. Baker (1982): Observations on the plastron mechanism of Hydrozetes sp. (Acari: Oribatida: Hydrozetidae). – Acarologia 23: 273–277.
Messner, B., J. Adis & E. F. Ribeiro (1992): Eine vergleichende Untersuchung über die Plastronstrukturen bei Milben (Acari). – Deutsche entomologische Zeitschrift 39: 159–176.
Mihelčič, F. (1963): Zur Systematik, Geografie und Ökologie der Gattung Eremaeus C. L. Koch. – Zoologischer Anzeiger 170: 153–159.
Mihelčič, F. (1967): Oribatiden (Oribatei) einiger Auwälder Osttirols. – Carinthia II 157/77: 236–245.
Pfingstl, T. (2013): Resistance to fresh and salt water in intertidal mites (Acari: Oribatida): implications for ecology and hydrochorous dispersal. – Experimental and Applied Acarology 61: 87–96.
Pfingstl, T. & G. Krisper (2014): Plastron respiration in marine intertidal oribatid mites (Acari, Fortuyniidae and Selenoribatidae). – Zoomorphology 133: 359–378.
Plum, N. (2005): Terrestrial invertebrates in flooded grassland: a literature review. – Wetlands 25: 721-737.
Pugh, P. J. A. & H. J. G. Dartnall (1994): The Acari of fresh- and brackish water habitats in the Antarctic and sub-Antarctic regions. – Polar Biology 14: 401–404.
Pugh, P. J. A., P. E. King & M. R. Fordy (1987): A comparison of the structure and function of the cerotegument in two species of Cryptostigmata (Acarina). – Journal of Natural History 21: 603–616.
Schatz, H. & R. Gerecke (1996) Hornmilben (Acari, Oribatida) aus Quellen und Quellbaechen im Nationalpark Berchtesgaden (Oberbayern) und in den Südlichen Alpen (Trentino - Alto Adige). – Berichte des Naturwissenschaftlich-medizinischen Vereins Innsbruck 83: 121–144.
Schuster, R. (1979): Soil mites in the marine environment. – In: Rodriguez, J. G. (ed.): Recent advances in acarology, Vol 8. – Academic Press, New York: 593–602.
Smrž, J. (1996): Some aspects of the life strategy of oribatid mites (Oribatida). – In: Mitchell, R., D. J. Horn, G. R. Needham & W. C. Welbourn (eds): Acarology IX, Volume 1 Proceedings. – Ohio Biological Survey, Ohio: 553–555.
Weigmann, G. (2006): Hornmilben (Oribatida). Die Tierwelt Deutschlands 76. Teil. –Goecke & Evers, Keltern: 520 pp.
Wunderle, I., L. Beck & S. Woas (1990): Ein Beitrag zur Taxonomie und Ökologie der Oribatulidae und Scheloribatidae (Acari, Oribatei) in Südwestdeutschland. – Andrias 7: 15–60.
Zinkler, D. (1999): Ecophysiological adaptations of soil mites to oxygen deficiency. – In: Mitchell, R., D.J. Horn, G.R. Needham & W.C. Welbourn (eds): Acarology IX, Volume 2. – Ohio Biological Survey, Ohio: 47–51.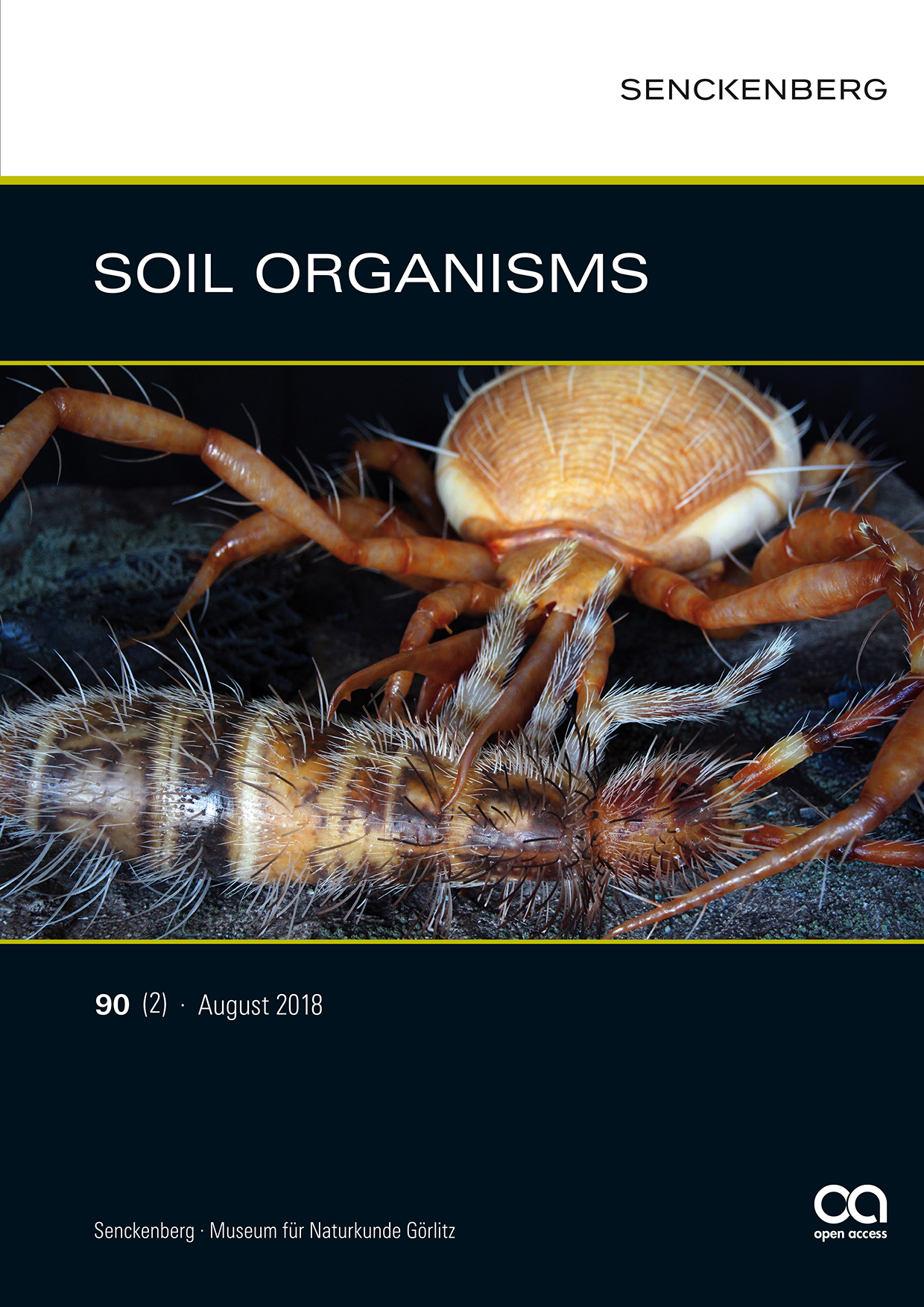 Downloads
How to Cite
Bardel, L. ., & Pfingstl, T. . (2018). Resistance to flooding of different species of terrestrial oribatid mites (Acari, Oribatida). SOIL ORGANISMS, 90(2), 71–77. https://doi.org/10.25674/g9yq-b556